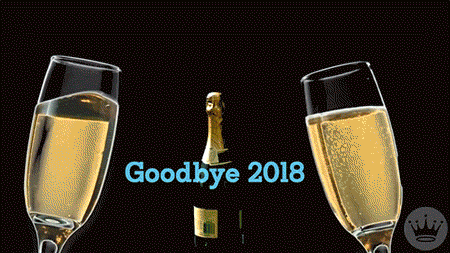 Wait!!
Hold on there a second! Has it actually been 3 months since my last blog? Thats crazy but true. 3 months where is the time going. Im getting to that age where a day feels like an hour, a week like a day and before I know it its been 3 months and we are nearly finished the first month of 2019. Im still signing forms as 2018?? Im always being the times.
But anyway less of me feeling old. How are you all doing? I hope you all had an amazing Christmas and that 2019 has been good to you all so far. I'm so thankful for 2019 arrival, I have finally started to feel better and start getting back to my old self. It's taken ages and while I had an enjoyable Christmas, I was sick so couldn't make the absolute most out of it. But finally the Kidney stones and Kidney issues have all fucked off and Im back to work and back into my routine. Rejoined Slimming World last week and am back to enjoying it. I have a blog coming on that really soon!
But 2018 was a weird year. Like everyone I had my Peaks and any Pits. But when you get sick you do quickly realise that your health is your wealth and other little problems that felt huge at the time seem to just not matter anymore. I made some great friends in 2018 and cemented some amazing friendships even further. I found out who mattered to me in my life and also found out who I mattered to. And I think that's what New year is really all about. Taking time to reflect on the past 12 months, what would you have done differently? Tell that person you like them? Tell that person and their negativity to do one, so many things you are proud of and some you're not. But once that clock struck 12 on 1st of January, we all have a chance to start a fresh.
2018 saw me do things I never thought I would have done. I spent 5 amazing days in New York with my best Friends, I went on a Hen Party to Marbella, saw one of my closest friends marry for Prince. I spent two weeks almost in hospital and had surgery. I visited the Skelligs. I even created a new YouTube video DSJB DRONES check it out. It's amazing when I look back and think of all the things I done.
But 2019 will be amazing also. I have already started it on a good note. I tried Bikram Yoga and loved it. Next week Im test driving a brand new Mini Countryman for the weekend and already planning on what the video will look like. I have lost 3Lbs in 4 days with Slimming World. It's feeling like a good year so far.
Now I'm back to Cork I will be creating more blogs and videos so make sure to check them out.
Happy 2019 to you all and lets make it the best one yet!.
Chat soon