The Weekend I Spiced Up My Life!!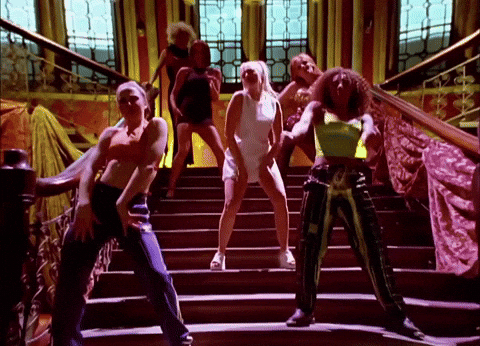 Welcome back to my little World, I hope you all have had a great couple of weeks since we were last together. I certainly have!! Last Weekend I took a trip to my most favourite city in the world.. LONDON... As someone who spends a lot of time in London I always love going back.
I love the hustle and bustle of that city.. It was a fantastic weekend so good that I didn't want to leave ( I never do). Loads of amazing memories were made that will stay with me forever. However the Weekend didn't start well. Let's go back to last Friday morning and begin this tale......
It's 4am on Friday morning, I'm waking up after literally 4 hours of broken sleep, however the tiredness doesn't really bother me one bit, the reason why?? I'm seeing the Spice Girls in Wembley Stadium tonight with one of my closest friends. We have been planning this since November last year when the tickets went on sale. Today is the day I have waited 22 years for. So as you can imagine I'm driving to Cork airport to catch my 6.20am flight and the spice Girls are blaring out on the stereo. Not a care in the world. Adrenaline is kicking in big time now. I'm meeting Shirley at the airport and we are gonna have the best weekend ever.
I pull into the Multi Story car park and all of a sudden my phone rings, it's Shirley, she's ringing me to ask where I am I guessed. "I'm just parking up now, I will be in the terminal in literally 3 minutes" I said all excited. "Darren I'm still at home, I slept in, I'm going to miss the flight" was the reply I got!!! I actually started to laugh my ass off. "You're taking the piss" I was laughing so hard expecting her to correct me. But she didn't she explained how she missed her alarm and that there would be no way she would make it to the airport in time.
So I couldn't get my head around it, I was thinking what do I do?? Do I still go? Or do I stay? Well actually I wasn't going to stay. I was not missing this concert. I was getting to Wembley on my own if I had to. So while I'm queuing up to check in my bag, poor Shirley is at home ringing Airports, Airlines, checking websites to try and get a flight out. But just our luck there were no seats on any flights leaving Cork that day. Every flight was fully booked up. DISASTER!!!!!! At this stage I told her "Girl you're on your own. Im getting on this plane." I got a response saying " I will see you in London at some stage today"
So on the plane, phone switched to Airplane mode, no contact. I swear that was the longest 1 hour flight I have ever experienced, and I used to used for Ryanair as Cabin Crew, so I know how a long flight feels. All I wanted was for the plane to land and for me to turn on my phone and get a message from Shirley saying she had got a flight and will be taking off within a few hours. We landed and I turn on the phone, "New Message from Shirley" appears on my iPhone screen. I actually was scared opening the message, it felt like getting the results from my leaving cert all over again! "Flight Booked, taking off from Kerry Airport at 16.05 and landing in Stansted at 17.35".
I didn't know whether to be cheering or crying!!
This means Im going to be spending a whole day in London on my own. Im going to be going to the concert on my own. You see if any of you have flown into Stansted and then needed to get into London, its not the quickest thing to do, 50 minutes if you catch the Express, 90 minutes if you catch the normal service. And to make matters worse the hotel was on the West side of London, right next to Hyde Park, 25 minutes from Liverpool Street station. Also Shirley like myself had a suitcase. Which meant she needed to drop that off at the hotel before making her way to Wembley which was another 30 minutes from the Hotel. All this was bad enough, but it's Friday in London at Rush hour... MENTAL!!!!! Oh and then there is the small matter of the Gates in Wembley opening at 5pm, Jess Glynn taking to the stage at 7pm and then the Spice Girls going on stage at 8.30pm.... There was no way this was going to work in our favour.
So I messaged a long time friend of mine, who lives in London to see if she was around and luckily for me she was. We arranged to meet for lunch and have a proper catch up. So I had a plan. I need to have a plan, a plan is good, even if it changes, I still have a plan. So I jumped onto the Stansted Express and made my way into London. I timed the journey, 53 minutes, then got on the Central Line to Queensway Station that took 27 minutes. And then it was 2 minutes walk to the hotel. I text Shirley on all the information just so she would be prepared for what lay ahead.
Got to the Hotel and checked in, well I checked in my bag, the room wasn't going to be ready until 3pm its not 10.20am. "Ok Im not meeting Leah for lunch until 12 and it only takes 20 minutes to get to White City, WTF am I going to do for the next hour or so?" I did what any 34 year old would do. Log onto the nearest Wifi and start watching random shit online. Time passed, I wouldn't say it flew, but it passed at an reasonable rate. Off to White City for myself. It was so good getting there and seeing Leah, the last time we saw each other was Three years ago and we had so much to catch up on. Time flew past and before we knew it, it was time for me to go and her back to work. Back at the hotel I had another 45 minutes to wait, yes you see it was only 2.15pm. All I wanted at this stage was to get my room, and relax. But I couldn't do this, so I did the next best thing PINK GIN AND DIET LEMONADE!!!!
Finally checked in I hear from Shirley, "Im at the Airport". "Well at least she will make this flight" I said to myself as I unpacked many suitcase. 4.05pm and I check the FlightRadar app on my phone, I was going to track this flight until it hits the tarmac in Stansted. 4.15pm flight not departed, 4.25 flight not departed. I thought to myself she isn't going to make this concert. So I jump into the shower and pray by the time I'm out and dressed she will have landed in Stansted. So its now 5pm
and I'm leaving the hotel, we had planned to go to this bar near the Stadium called BOXPARK and experience some pre concert atmosphere and drinks. Problem was Shirley hadn't landed yet. So I jump on the Jubilee line and make my way to Wembley. The train was packed with fellow Spice Girls fans all ready to have the night of their lives. I wanted that too, but my friend wasn't with me and I felt a bit of a loner. But I was in London, on my way to Wembley and about to see a band I had wanted to see since I was a kid. I had to enjoy this moment.
So walking down the main plaza to Wembley the atmosphere was electric. Everyone was dressed in Spice Girls T-shirts, or leopard Print, or had Union Jack Dresses, (I'm just on about the fellas) but everyone was in great form. Heading into BOXPARK I looked around in awe at this place. Cork badly needs a place like this ,30 little takeaway shops with different food from all around the world, giant dance floors, nightclubs, bars, chill rooms... all under one roof. I thought to myself "Shirley would love this" Going out for a smoke I met a group of girls and we chatted, i had company at last. I told the girls the story about Shirley and that she was on her way. They felt so sorry for her, they all said they wanted to meet her and give her a hug. Checking my phone Shirley had landed and she had messaged me to say she was near the Hotel.
We completely missed Jess Glynn and when we looked at our watches we realise we had only 30 minutes before the Girls were on stage. It was time to neck the drinks and peg it to our seats. Getting into Wembley was perfect, because we left it so late we didn't have any queues. Shirley was in constant contact with me "I'm in a taxi now on the way, get me WINE".. "Ok the girls are on stage in 5 minutes she will miss the start but wont miss too much" was all I kept thinking to myself. Next thing the roar of the crowd fills the arena and the music starts, "Fuck the drinks, I'm not missing this" I legged it for my seat. As did about 500 other people right at the same time. It was like something out of Independence Day, you know once the Aliens start blowing up shit and everyone starts running everywhere!! PANDEMONIUM.
All of a sudden there they were. The Spice Girls, Spice up your life started and I was ready to do just that. SPICE UP MY LIFE!! Still gutted Shirley wasn't there but i knew she would be here soon. So after a couple of songs i took myself off to the bar. Other people in my row were looking at me obviously thinking I'm some saddo being there on my own. Once I came back a girl asked me who was I with and I explained the story. The songs kept on coming but no sign of Shirley.
All of a sudden I see a the back of a woman with Blonde Hair... "That's Shirley" I could tell it's was her, but instead of walking up the steps she went down towards the lower Tier. I started screaming "Shirley Shirley" but she couldn't hear me. Then the girls on my Row started to scream her name, then the people in the row in front start to scream her name. There was about 15 people screaming her name. It was hilarious. Shirley turned around and looked up and there we all were waving at her. What must have been going through her head. "Who are these people and why are they waving at me?"
WE WERE REUNITED!! I started to cry, all I can say was that it was 16 hours of stress just disappearing. We could now both enjoy the Spice Girls. Man did they put on a show. It was amazing.
We left the concert and grabbed some food, had our photos taken outside the Original Spice bus from the SpiceWorld movie and headed back to the hotel. As we were walking to the Hotel I turned to Shirley and said " wouldn't it be great if we could have gone to tomorrow nights show, enjoy the pre concert atmosphere and get standing tickets" Shirley totally agreed with me. And just like that I booked two tickets for the Saturday night show, standing!! I must tell you this now, I was ever so slightly pissed when I suggested this idea and when I ordered the tickets.
You see the seats we had on Friday were good, not great. It felt like we were watching the show, we wanted to be apart of it. Now I don't mean hop on stage with a black dress and black bob haircut and pretend to be Victoria Beckham, but to be in with the crowd, dancing , getting up close to the stage!! And that was what we planned on doing.
Saturday morning I woke up with a very cloudy brain. "Did I order 2 tickets to tonight's show? " I said to Shirley in a croaky voice. "Yes Yes you did" was what I got back. Did I regret it? FUCK NO.. I'm off to see the Spice Girls again!!! So after a shower each we decided to go for a little walk around Hyde Park.
Stopped at the Princess Diana memorial and then made our way into the city centre. Stopping at Five Guys for food we then did a little bit of shopping where I found the bargain of the century. So for all you 90's kids/teens. Do you remember the Adidas pop up pants. You know, the ones with the press studs all down the side. They were all the rage in 97/98... Well I found a pair in Topman on Oxford Street for £30 BARGAIN!!! Could my day get any better!!! I had seen a pair online for about £60 and was not paying that much!! But £30 was manageable for me.
So back to the hotel with my new purchase in hand, we started to get ready for night 2 of the Spice girls. What a difference 24 hours made. It was so nice to be getting ready with my friend having the chats about the concert and sharing the excitement. Once again we were back on the Tube heading towards Wembley. The atmosphere was just as electric as it was the evening before. This time I treated myself to an official T shirt for the tour and we headed back into BOXPARK. Shirley was so surprised to see how amazing the place is. We had some drinks and danced to the Spice Girls songs. They even had some dancers on stage teaching people the actual dance move to some of the Spice Girls songs, I was shocked to realise how many moves I still remembered. I was officially living my best life.
Off to the Stadium we went, together this time, sharing the excitement of what laid ahead. The best thing was that this time we had standing tickets and when we got onto the pitch we were able to get very close to the front. The roar of the crowd started again and all of a sudden there they were, Scary, Ginger, Sporty and Baby. Looking fabulous. Shimmering in their amazing outfits and soaking up every cheer coming from the 70,000 fans that had come out to see them. While the show itself was the same as the night before, the experience was completely different. We were apart of the crowd, we were laughing, cheering, crying and singing with everyone else around us.
For 2 hours we were transported back in time to when life was so much easier. It was a 2 hour soundtrack to some of the best years in my life. With every song they played memories were coming back to me of that time. For example the first time I heard Wannabe in 1996 I was in London in my Nan's house. She passed away in 2005 but Saturday night I was right back there in her sitting room. It really was an amazing 2 hours and you could tell everyone were reminiscing the 90's and how the Spice Girls really did create the soundtrack of our youth.
The theme of the show was "Everyone Welcome" and I can promise you everyone felt welcomed. It will be a night I will never ever forget!
Heading home we were bate, we headed back to the hotel to sleep and mentally prepare ourselves for the following day where we were about to go back to reality. Getting back into Cork Sunday evening felt so depressing. Knowing it was back to normal and that I would never ever have that weekend again.
So for what started off as the morning from hell soon redeemed itself and became the best weekend ever.
Spice Girls you were phenomenal!
Shirley this weekend would not have been the same without you!!