Take a step back and try again!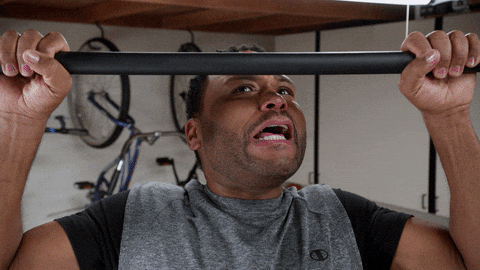 Welcome back, everyone!!! How are you all doing? I have finally recovered from last weekend in London and am back at the gym loving life... Well, last week I wouldn't have said that to anyone!
Last week was a very tough week, mentally and physically. I found it very tough. My motivation was at zero, my energy was also at rock bottom. I wanted to give up. I said to myself "Darren embrace your curves" I just didn't want to do it anymore. But I knew I had to just get on with it. And that's exactly what I did. Dusted myself down and started again!
So the day after I returned from London I was about to begin my second 6-week plan. But it was really the last thing I wanted to do. Laying in bed at 8am knowing I had to be at the gym for 9, I curled up in a ball and just laid there. Reaching over for the phone, I googled the phone number for the gym, with my finger hovering over the call button I said to myself "Don't call in sick, Don't miss this session, you know it will be the beginning of the end if you do". Every part of my body wanted me to press the button and make that call but a little voice inside me just keep saying "Don't" and so I decided to listen and dragged my ass off to the gym.
It was, without a doubt, the longest half an hour I have ever experienced. I just wanted it to be over. I wanted to run out of there. But I couldn't do that to myself. I really couldn't. I just had to get on and finish. "It's only 30 minutes" I kept saying to myself as my body screamed for me to stop. Once I have finished I came out of the gym feeling pretty good, Fucking shattered but still good. I did it. The rest of the day flew and as I kept track of my activity on my Apple Watch I was proud that I didn't give up. 3,500 calories burnt throughout the day!! That was a record for me. 500 of those were at the gym. I felt on top of the world. So going to bed I had planned it that I would head back on Tuesday morning to do a little bit of cardio on my own.
However.....
That never happened. I totally slept in and when I did wake up it was simply too late to head to the gym and be home in time to get ready to head to work. The tiredness from the weekend had caught up with me. But things started to go downhill further. I wasn't interested in eating healthy, I didn't want to go to the gym any more that week. I just wanted to be a slob and relax and do fuck all. I had fallen off the wagon mentally. I just knew I had to try and push myself through this lull. So Wednesday I headed back to the gym and explained my feelings to my Trainer. He was so understanding. "We all have days like this" "Just remember this is not a quick fix, its a change in your way of life" He reminded me how well I had done over the past 6 weeks and that this lull will pass. Friday came and once again I was still not wanting to be there. I said it to another Trainer of mine and she just reaffirmed how well I was doing and how far I had come.
So the weekend was upon us and I decided not to think too much and not to dwell on the past 5 days. I put the thoughts of the gym and diets and being all healthy to one side. It didn't do me the world of good but it did help a little. I paid attention to that little voice again who was saying "don't give up, don't let yourself down"
This morning I woke up and thought its a brand new week. Darren its week 8 and this is going to be the week where you kick ass. This will be the week you prove yourself right and show yourself that giving up would be the wrong thing to do completely. And this morning I hit a couple of personal bests and kept asking my trainer to add more weight, do more rep, I pushed and pushed myself and when I left that gym this morning I felt like I could accomplish anything that is thrown at me. This week is going to be awesome. This is where I get back on plan and fully embrace it.
So it got me thinking, I should put this attitude towards almost everything else I do in life. Not just the gym. I should go and be the best I can in everything I do. Or at least try.
So if you have a goal, a dream or you want something. Then just go for it. It may not be easy but the harder it is the more satisfaction you will get when you accomplish it. Never give up. Even when you want nothing more than to say enough, I'm done, I can't do it. Just take a step back look at the bigger picture and go again. You will be surprised how much you will achieve when you put a bit of effort in.
As you can see the difference in 7 weeks!!
Peace out Peeps